HISAKA Plate Heat Exchangers
hesco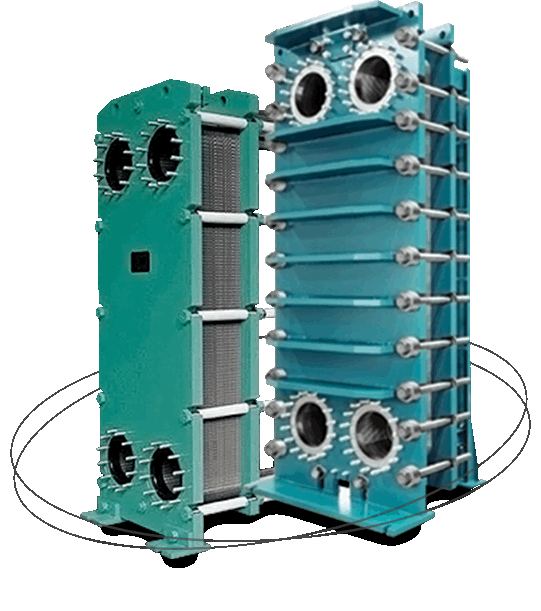 | | |
| --- | --- |
| Supplier | HISAKA |
| Origin | Japan |
| Capability range | 0.1m³/h to 5,000m3/h |
| Operating pressure | 4.0MPaG max |
| Operating temperature | 180°C max |
| Surface area | 0.18m²/unit to 2,500m²/unit |
| Plate materials | Stainless steel, Titanium, High Nickel alloy, Nickel |
| Other materials | We conform to various international standards such as ASME, JIS, CE, etc |
| Gasket materials | NBR, EPDM, IIR, FPM, Silicone,TCG, etc |
Hisaka Plate heat exchangers are made of thin sheets of corrosion resistant metal plates such as stainless
steel and titanium. These metal plates are press-formed with a corrugated pattern on the surface and is
compressed and sealed with the synthetic rubber. These plates are suspended, supported, and aligned
by a guide bars. The plates are also compressed by using a fixed and movable frame by using bolts.
In such an arrangement, the movable frame allows the equipment to adjust (add or remove) the plates to
meet the heat duty
Plate heat exchangers
The general set up of a plate heat exchanger is made of 2 frames (E-frame; the movable frame and S-frame; the fixed frame). In between these two frames are combinations of one D-plate, one E-plate, and a mixture of A-plates with B-plates. E-plate will be the plate in contact with E-frame, while the D plate is always be in contact with the S-Frame. The other A-plates and B-plates are arranged in such that no two same plates will appear side to side. If observed with detail, the heat transfer plates A-plate and B-plates are actually of identical patterns. In the picture, A-plate is actually turned upside-down to form B-plate, and vice versa. This is vital to ensure that each consecutive plate will have fluid that is flowing into different flow channels with the assist of the rubber gasket as shown in the picture. In addition, D-plate contains gaskets that covers both flow channels. Hence, the flowing fluid does not directly come in contact with the frames.
Gasket
HISAKA Plate Heat Exchanger is used in almost all process
industries, as such the gaskets are specifically selected based on
the operating condition. A wide range of gaskets are available such
as NBR, EPDM, IIR, FPM, Silicon, etc
APPLICATION
Food, wine, beer, soft drinks, sugar, milk, vegetable oil, fish sauce ….
Paper, pulp.
Petrochemical, oil refining, petroleum
Electric Factory.
Iron and steel
Constructed as central air conditioning system, carrying swimming seasons.
Medicine
Electronic.
Plating and mechanical.
Hesco is a genuine distributor of hydraulic power team – Spx in Vietnam. Please contact us for a free consultation, give a total solution and choose the right equipment for each specific application in your factory.
In addition, We provide related services such as supplying spare parts, repairing equipment.